The efforts of the IBUS educational committee is ongoing, with the main goal of promoting the use of IUS. The last two modules and workshop took place in the USA (New York in September 2022 and the recent one in Chicago in March 2023) introducing IUS to close to 70 American IBD specialists. The 2-day workshop in Chicago, run by local organizers Noa Krugliak Cleveland and David Rubin, trained more than 35 candidates under the guidance of international bowel US experts.
The next module 1 workshops in 2023 will take place in Lueneburg (Germany) and Hyderabad (India), with the latter being the first workshop held in the far east.
Module 2 hands-on training is ongoing at all IBUS centers. New centers in Europe, Australia, and the USA have joined the IUS educational efforts. Most participants from previous module 1 workshops were placed in IBUS module 2 training centers. A new logbook system was implemented to allow continuous monitoring of trainees' achievements during their module 1 training.
A module 3 workshop was carried out during the ECCO meeting in Copenhagen and involved finalising the educational curriculum of IBUS.
The first advanced virtual workshop on pelvic sonographic imaging in Crohn's disease was organised successfully, lead by 6 international experts from Italy, Israel and Japan, and involved lectures and virtual "hands-on" sessions. A second advanced workshop on intestinal ultrasound in post-operative patients and the use of contrast enhanced ultrasound is planned for this year. Bi-monthly webinars on various topics are continuously held and a webinar library is currently available for IBUS members on our website.
After many years of fruitful work, Prof. Giovani Maconi has recently stepped down from the educational committee. His past and ongoing contributions to education on ultrasound is greatly appreciated and he was awarded with the first and prestigious IBUS honourable membership during the previous IBUS members meeting. Dr. Federica Furfaro from Milan was elected to join the educational committee.
The future objectives of the educational committee involve the adaptation of the educational syllabus to the increasing worldwide demand for IUS education and the development of state-of-the-art technological educational solutions, namely, an E-learning platform. We currently strive to fulfil this objective in the next 2-3 years.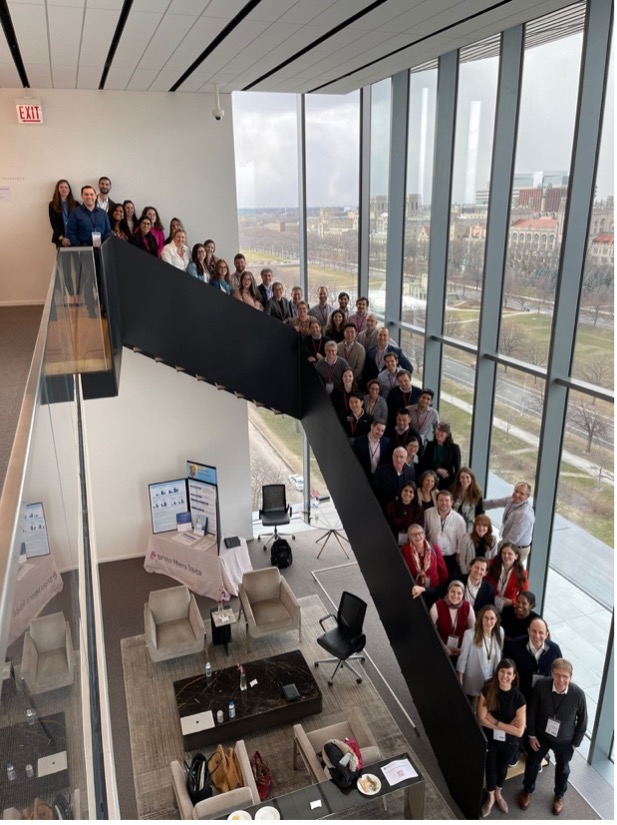 Group photo - Module 1 Chicago 2023
The recent elections for the EduCom brought new faces to the committee. Dr. Lauren White (Australia), Dr. Hughie Fraser (Canada), and Dr. Shintaro Sagami (Japan) have joined Dr. Frauke Petersen (Germany - reelected), Prof. Gianni Maconi (Italy – vice chair), and Prof. Dan Carter (Israel - chair). The new EduCom committee is continuing the work of the former committee, and this is time to thank Dr. Deike Strobel (Germany) and Dr. Anil Asthana (Australia), who were part of the committee during the last three years.
We returned to face-to-face meetings. Module 1 took place in Stresa, Italy, under the leadership of Prof. Mariangela Allocca and Prof. Giovani Maconi. Participates from all over the world joined IBUS experts for two days of lectures and hands-on sessions and can continue now for Module 2 training.
The next Module 1 workshop will take place at the end of September in New York, USA, under the leadership of Prof. Marla Dubinsky and Dr. Michael Dolinger. This is the first IBUS workshop held in the USA, mirroring the vast interest that has risen in intestinal ultrasound in the USA. A second American IBUS Module 1 workshop will take place next year in Chicago under the leadership of Prof. David Rubin and Dr. Noa Krugliak Cleveland. Module 1 workshops will also be held in Lüneburg, Germany, and Hyderabad, India next year.
Module 2 centers have reopened and are now accepting trainees from all over the world for two to four weeks of exciting hands-on IUS exams under the supervision of IBUS experts. A new logbook enables ongoing feedback and supervision. A new online scheduling system for Module 2 is under development, to be shortly released for direct scheduling of Module 2 training.
Module 3 will take place during the next ECCO meeting, and many new physicians will be granted the IBUS certificate for finalizing the IBUS curriculum.
Online webinars are held every two months, covering many interesting topics. If you are interested in joining our lecturers or have an interesting topic you would like to hear about, do not hesitate to contact the IBUS office.
The EduCom is widening the scope of our teaching. A new advanced online hands-on workshop on perineal and transrectal ultrasound in IBD will take place in November under the direction of Prof. Maconi and Prof. Carter. This workshop is directed to advanced intestinal ultrasound performers interested in widening their knowledge of new ultrasound techniques.